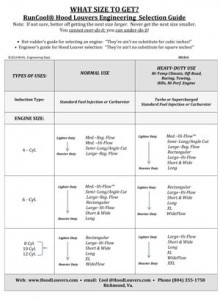 Click Image  to see Size Guide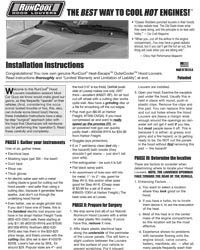 Click image to see Installation Instructions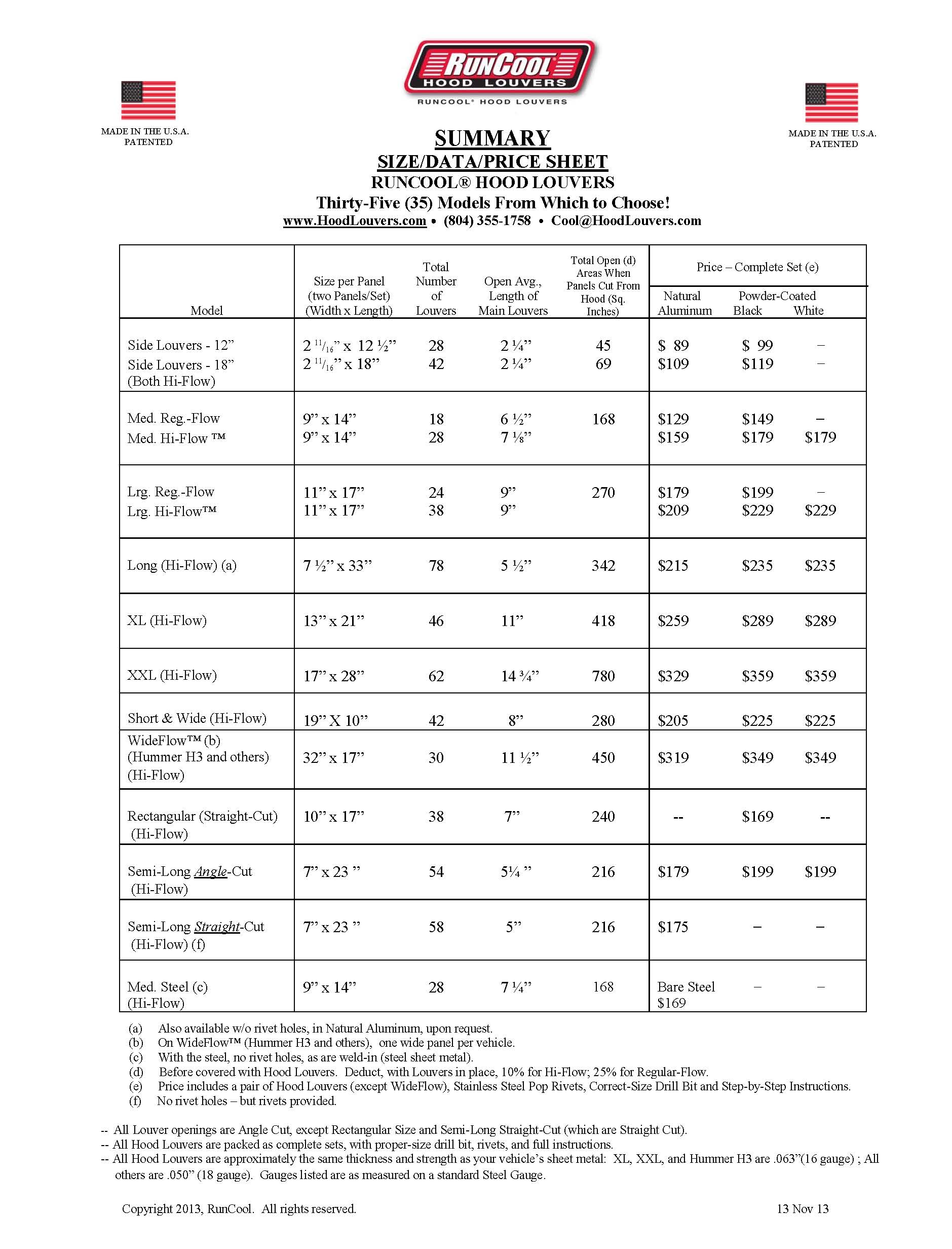 Click image to see Retail Summary Sheet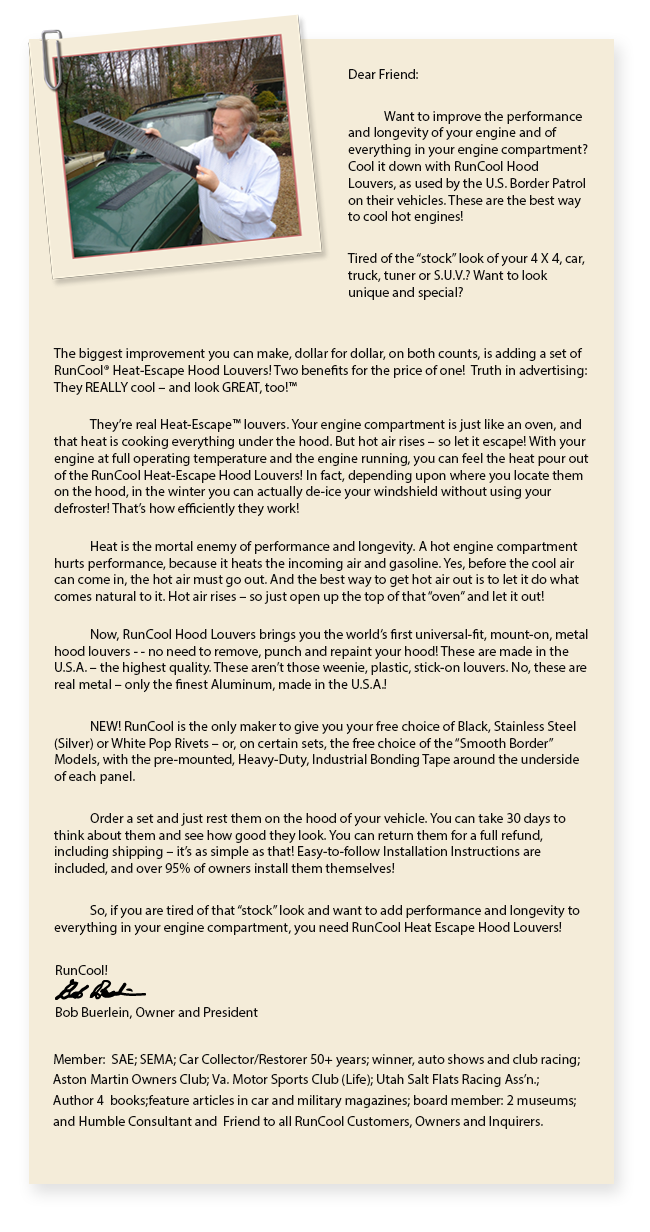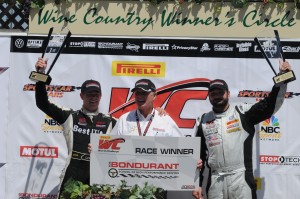 Andy Lee – 4th Win and Rookie of the Year at Sonoma Grand Prix  (click on image to see Size Large Hi-Flow Hood Louvers and RunCool bumper stickers on L and R!) Size Large Hi-Flow Hood Louvers which helped Andy Lee win here at Sonoma — and place high in World-Challenge Cup Racing as seen on NBC!
---
Festivals of Speed Article 7Dec14
The "Balloon Effect" is what racers call air being forced into and packing up inside of the engine compartment. Like a "sheet anchor" on a boat, it slows you down – and it also causes Front-End Lift! Let it flow through and out, with RunCool Hood Louvers!

DYNO TESTS PROVE

INCREASED

HORSEPOWER — WHICH ALSO MEANS BETTER

GAS

MILEAGE.
---
CUSTOMERS WHO HAVE BOUGHT OUR HOOD LOUVERS SAY:

"Your hood louvers are absolutely excellent! Install was straight forward, instructions were good, the louvers look great, and the temp of the Jeep XJ has dropped 20 degrees F. And that's on the temp gauge. The under hood temp dropped even more. Very pleased with the service, and responsiveness of your team, and your product." –D.H., Caytonsville, Md.

"26 degree drop on the engine's temperature gauge! Now I can run the A/C without overheating! I stood back after I installed them and said, 'They really look sharp!' I hit on something good. They impressed me from the minute I opened the box!" –Ken G., Idalia, Colo., Jeep Cherokee
---
These are the most-effective — and owners tell us the best looking — Hood Louvers in the world.  Why would you go anywhere else?  As one of our RunCool customers told us:  " A friend bought his hood louvers from (Brand X), and when he saw mine, he said he immediately had a case of 'louver envy'"!

"The heat is now dispersed well and the engine is much cooler. I can now lift the hood prop rod by actually touching it with my hand, without burning myself, unlike before…As we all know 'less heat, less possible component damage.' Thanks for making a top quality product that REALLY works!" –M.D., Conn.

"We (Cooper Tire Test Center) are a full testing facility.  We test tires, vehicles, motorcycles and have some government vehicles as well.  Being in south Texas and dealing with the south Texas heat, we are using your hood vents on our fleet vehicles.  We have a fleet of over 30 cars, trucks and SUV's and are always adding to it.  We will definitely buy more of your hood vents soon."
— John R. — Cooper Tire Test Center, Texas
RunCool Hood Louvers evacuate more heat than any other hood louvers available anywhere in the world!  Thanks due to the science and engineering that go into them.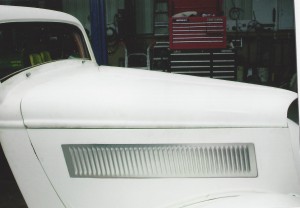 "I am sending you a picture of the louvers that I have installed on my '34 Chevy coupe.  It is the fiberglass Street Beast.  I cut out the hood sides for the louvers.  I will not use the rivets, but will attach them with body panel adhesive that all repair shops use.  Thanks for the great panels as they worked "great"!–Mario S., Ringoes, N.J.

"Your louvers have given me a power boost.  I have sent some business your way from hot rod friends and folks who have jeeps who really like the look.  I get comments continually. . . people want to know if it is a special edition." – Gregg A., Ariz.
They REALLY Cool– and Look GREAT, Too!!!™

"The hood louvers are WONDERFUL!!! We had the race car out for the first time since installing them and the louvers worked to perfection. I went all the way to the Pro Finals yesterday and we didn't have to take the hood off once to get the car cool – amazing!"  – Outrageously Vintage Race Team                                                 


"I think that the
[RunCool]solution is much more 'racy' than all the aftermarket hoods my friends here in the car club in Sweden have. The others look 'gayish' to me." — Bengt L.,  Sweden

"This is an AWESOME product, and they look great. I love 'em, I love 'em, I love 'em!" –BMW 850 Owner

"My Pontiac Monza had a 4-cylinder, and I stuffed a Chevy V-8 in it and it overheated, especially in traffic. With your hood louvers, now I can drive anytime/anywhere, even in the summer — and they solved my hot start problem. Also they look GREAT! Everyone asks me,'Where did you get 'em?"'Donnie S., Richmond, Va.

"It is UNBELIEVABLE how well they work. I would never believe the difference they could make. Your hood louvers are exceptional! The quality of your products far exceeded my expectations. The instructions are faultless, and installing them was easy."
              –K.W., Colo. (Search, Rescue and Recovery Team)

"Followed your instructions to the letter and it worked out PERFECT. Love them. Thanks for the help."
–Buck S., Calif.

"I have installed the medium set on my van and I have received great reviews from people who have seen it, and I have noticed that I don't feel the engine heat around my feet like before…I was out in the heat of the desert climbing up a long grade, and without your hood louvers, I KNOW I would have been overheating!"               –M.F., Calif.


"Your instructions for installation were awesome, nice job. I painted the vents a matching House of Color Orange Pearl with a base underneath. Used 4 coats of clear coat to make them match the hood. Jeep is a '97, stretched frame, 41″ IROKS, Dana 60 axles, Atlas Transfer, Chevy 5.7 V8…I could feel the heat from the vent coming out, and the hood was not hot to the touch anymore." —T.W., Ga.

"The 304 [in the Jeep] puts out a lot of heat and this is a great looking way to get rid of that heat."
–www.certifiablejeep.com


"The louvers are awesome!!!!!"
–NBPDP Racing


"I have some plastic hood louvers now — what a pain! Once or twice each year I have to take them off and repaint them — the paint is always flaking off, and that's after using special plastic paint! I'm ordering your powder-coated aluminum ones because I'm tired of messing around!" – Jeep Owner


"Just overheated the all-aluminum engine of my Land Rover – $2,000 to repair warped heads! Putting a set of RunCool Hood Louvers on this weekend which would have prevented this!" –Bob/Land Rover w/4.6L


"South Florida gets very hot during the summer and stays that way for most of the year. Keeping our K-9 partners healthy and safe is very important to us. We have used hood louvers since 2002. We just swapped out our old 2002 CVPI vehicle with close to 8000 hours of city driving and idle time on the original engine. When we participate in joint agency training exercises we are the only ones to have our hoods closed. We found that hood louvers keep our vehicles running cooler by dissipating idle heat like no other method we have found."
–Naples, Fla. P.D.


"Got the louvers last night, very nice quality. I know good metal work, and these look real good."
–Steve H.


"I noticed the difference on my temp gauge right away — and I like the looks of them!"
–Rodney P., New Mexico


"Got the louvers today and I must say that they are everything I was hoping they would be…great job!"
–Eric H., Oregon


"It's amazing the difference they make! Even the passenger compartment is cooler! Before your hood louvers, some sensitive electronic components under the hood got so hot my gas mileage dropped 5-7 mpg (but the engine ran fine — so I didn't discover this at first). I've run your hood louvers for 3 years, and that hasn't happened since! Now I'm ordering another set for my truck, and I'll soon order a set for my other Jeep."
–Robert C., Missouri (Jeep Cherokee)


"Instead of spending $600 or more for an intercooler, I went for giving the RunCool Hood Louvers a try and can honestly say that they more than met the expectations I had for them…Lowering the intake temperature has made a big difference in power output, A.C. efficiency, and my peace of mind…and have had numerous comments about how good they look." –W.D., Tex.


"They really get HUGE heat out of my diesel!! I'm impressed so much I just can't stand it!!!"
–Ted R., Granite Falls, Wash.
RUNCOOL® HOOD LOUVERS
6841 FOREST HILL AVE. • SUITE 361 • RICHMOND, VA 23225 • (804) 355-1758
Fax (804) 320-3223 • EMAIL: COOL@HOODLOUVERS.COM
SATISFACTION GUARANTEED OR RETURN IN 30 DAYS FOR A FULL  AND UNQUESTIONED REFUND.
RunCool is a manufacturer of hood louvers, hood vents, and accessories to cool your engine.
"Real Heat-Escape

™

Hood Louvers/Hood Vents. . .
Because Hot Air Rises! "RUN COOL … LOOK COOL!"™
TRUTH in advertising:
"They REALLY cool — and look GREAT, too!"™