Note the Black RunCool Hood Louvers in black area of the hood.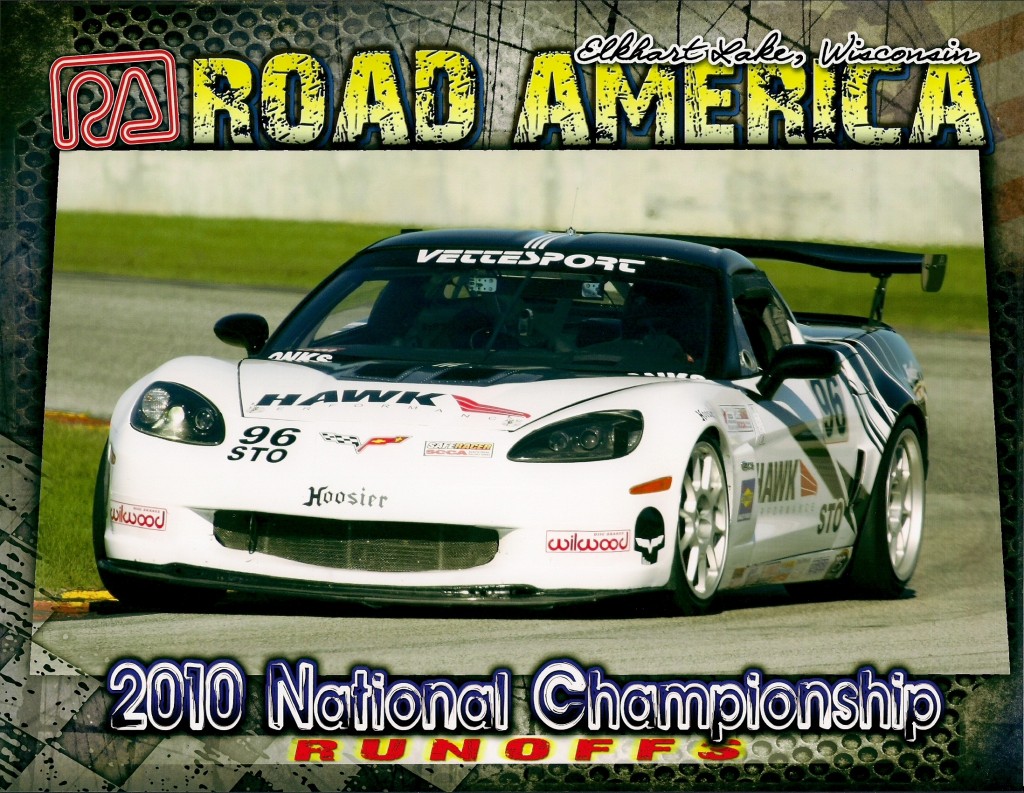 Racing strains everything on the vehicle – – including the driver – – while pushing to extremes.  And upped power  from your engine means more heat – – simple physics!  More simple physics:  Hot air rises!
Let it out with RunCool Hood Louvers, battle-proven in racing on sports car road courses and race tracks, and off-road in the dirt, dust and mud, conquered by 4-wheelers.
Our Hood Louvers have helped drivers/owners win many races for many years, thanks to:
1)      More power.
2)      Longer under-hood component life – – fewer D.N.F.'s.
3)      And more driver comfort/less driver fatigue, thanks to lower driver compartment
          temps!
A hot engine means a hot firewall and a hot gearbox.
A hot firewall and tranny hump heat soak/radiate engine heat into the driver's compartment.

More driver compartment heat means more driver fatigue!
ALSO. . .
4)    If air coming in through the radiator and into the engine compartment can't get out, your speeds are slower, due to the "umbrella effect".
 5)   That's why many racers run two sets of our Hood Louvers – to get out:
       a)   The heat, and
       b)   The air pressure – – which, under the hood, means

less front-end lift!
Notorious at track drag racing (and at numerous car shows) throughout Southeast New Mexico, West Texas and East Texas, Chris French's breathed-on Chrysler 300 pumps out 950 HP! More power means more heat – not wanted in that hot territory!
That's why Chris is equipped with RunCool Hood Louvers, in Size XL. Also note his use of our Size Medium Hood Louvers at the rear, where his turbo is mounted! Chris says, "I really love the functionality of the louvers. The ones on the corner of the rear end of the car let the heat escape my turbo, which is mounted in the rear, keeping the engine cooler for better performance. Awesome. . . I've gotten a lot of compliments on the louvers!"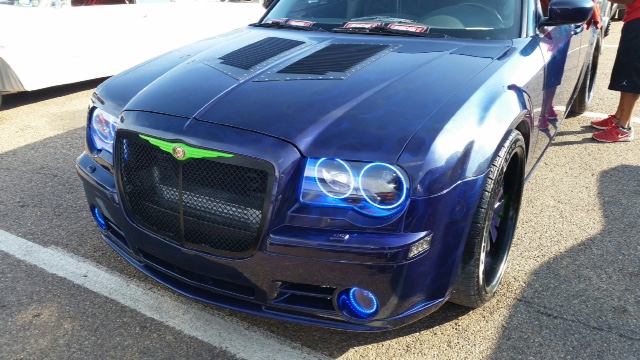 HEAT is the racer's friend.  Converting fuel into heat and heat into motion is the essential function of any engine, and racing engines do it with particular enthusiasm.

Heat is also the racer's enemy.  Because the Constitutional Law of the Universe requires that nothing is ever 100 percent efficient, a certain amount of that same heat of combustion — a great deal of it, in fact — leaks out of the engine and exhaust and into the surrounding race car, where it causes nothing but mischief, shortening the life of components and fatiguing the race car driver.  — Performance Racing Industry Magazine  Oct, 2014


—
---

"Here are pictures of the louvers installed on my Porsche 968, which I had spent two years converting to a mostly-track car.  A fellow 968 owner, who had your louvers installed on his race car, referred me to you.  I'm very happy with the louvers.  The quality is top notch, and the installation was straightforward.  Thanks for making a great product."
— Andy — Austin, Texas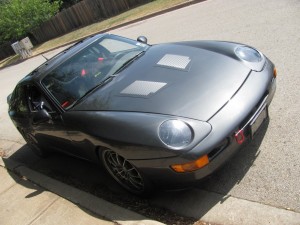 Note: Large, Aluminum, Hi-Flow
A race-winning RunCool Corvette with two sets of RunCool Hood Louvers, for a cooler-running engine (more power) and to reduce front-end lift (the air passes through, reducing the "Umbrella Effect").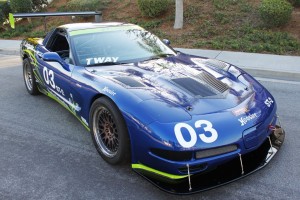 Note RunCool sticker up front on this RunCool Hood Louver-festooned Corvette!  (Owner/Driver Jim Tway.)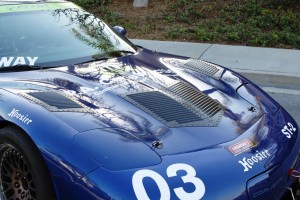 Click here to ride shotgun at speeds up to 150 mph on "the Fastest Road Course in the West" — Willow Springs, near Palmdale, Calif.  Jim reports, "some faster ST-1 cars mixed it up with us too. . . with the 30 mph head wind down the front straight, drafting was working well".
Note:  At speed the air passing over the Hood Louvers is moving faster than the air coming through the radiator and under the Hood Louvers.  This causes Negative Pressure (a vacuum!) above the Hood Louvers!  This is known as the "Bernoulli Effect" — and is exactly why airplane wings generate "Lift"!

What Size to Select
Racers know there's no such thing as being able to drop temps of a race-car engine or temps in the driver's seat too much – so go for the biggest Hood Louvers that will fit on your race car!  As with a carburetor or F.I. intake, the bigger  the open area the greater  the air flow!
Made in the U.S.A. of formed sheet Aluminum (most are .050" thick), they are both lightweight  and strong.
So, if you want to move forward several positions
and

reduce your D.N.F.'s, get RunCool Hood Louvers – dollar-for-dollar, the best  addition you can make to your race car!
Time to treat yourself to better performance, and more podiums!
Battle Proven on Race Tracks . . .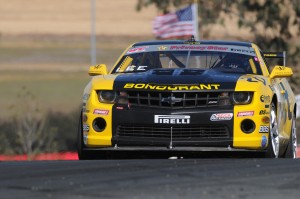 Camero Hood Louvers by Run Cool — as seen on NBC Sports!
Battle-Proven Off-Road,too!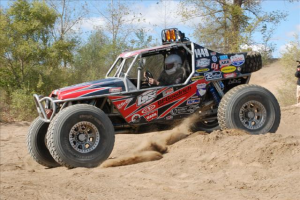 Off-Road™ Hood Louvers by RunCool, keep down the temps!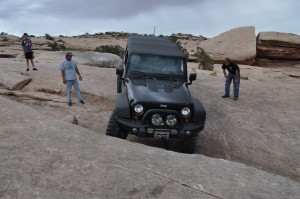 Jeep Hood Louvers, earning their keep!