Ot

her Applications Currently in Use That Show the Effectiveness of our Hood Louvers:
• U. S. Border Patrol vehicles – trucks, patrol cars, Jeeps and K-9 Vehicles that sit in the hot desert with A/C and engine running.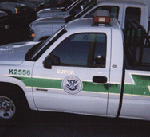 • Rock Trucks – Huge trucks that slowly carry tons of blasted rock from the bottom of the quarry up to the surface.
• Oil Field "Pump Trucks" with 600 hp, 2,000 ft-lb torque engines that sit stationary in the desert-blasting ultra high pressure water deep into the earth to find oil.
 Race Boats
• (Shown at left) On outboard motor of champion bass-boat racer – over 125mph!
• (One by four-time "Super-V" World Champion boat builder) — with twin 500 hp Big Block engines.
 Police Cars
   On a stop, when shooting radar or during routine traffic stops, heat can build up to extremes.
   Call for special P.D. pricing.
Aircraft Engine Compartments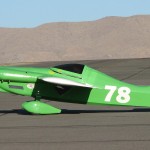 • Tow Vehicles – Where a heavy load can up the temperature gauge.
• Helicopters to let out engine heat, and cool the engine oil coolers.
• Chase Vehicles for the Dept. of Homeland Security – twin turbo, 1,200 hp!
• Diesel Trucks with turbos that drive up underhood temperatures!
• Taxi Cabs – Crown Vic models and more!
Special "Vehicle" Applications
•Passenger Vans
•Many Ambulances:

 These typically have short hoods. Size Short and Wide are designed to fit!  Also, Size Lrg, H-F, often fit well.  If not,  Size Med., H-F, side by side.  Can use

2

sets of Size M, H-F side-by-side (L-L/R-R) if needed,

as

with

Diesels

!

•Tractor Trailers
•Giant Rock-Quarry Trucks
•Oil-Rig Drilling Trucks:

 With big hoods, can use Size XXL.  Or can use two sets of Size Lrg., H-F (one set towards mid/front of hood, other set mid/rear of hood).

•Aircraft:

Size Rectangular (order just one panel, not a pair) for the  underside of the engine fairing; Side Louvers – 12" or Side Louvers – 18" for sides of engine fairing.

•Race Boats – V-8's:

Largest size that will fit on the engine compartment lids!

•Race Boats – Outboards:

 Side Louvers – 12" or 18" on sides of engine fairing – openings facing to the rear to let out heat OR facing to the front for more cool air intake.