Don't Pop Your Hood to Cool Your Engine – Get RunCool Hood Louvers!!!

Service Proven by the U.S. Border Patrol, D.H.S., Police and Sheriffs across the country! Keep your engine — and your cabin cool, with more power and better gas mileage!
Dyno tests prove increased  horsepower – – which also means better

gas

mileage.
---
 What Size to Use?
For V-8's: Crown Vics, Chargers, Tahoes, Explorers (V-8), Durangos, Expeditions, Pickups – use Size Large Hi-Flow.
For V-8's, and Full-Size Vehicles as above, can also use Size Long. 
For More Severe Duty (K-9 Units Really Like These) — Use Size XL.
On V-6's: Impalas, Taurus, Explorers (V-6) and Small Pickups — Use Size Med., Hi-Flow. For Turbo V-6's, Use Size Large Hi-Flow
The Best Way to Cool Police Vehicles!
Call (804) 355-1758 or email Cool@hoodlouvers.com for

Special Law Enforcement Pricing

Law enforcement vehicles, in particular, are subject to high-temperature extremes under the hood. Heat is the mortal enemy of the engine and all the components under the hood. And that heat RADIATES into the firewall, transmission and INTO THE CABIN!  Hot air rises, so let it out with patented RunCool® Hood Louvers!
Great for:
— K-9 Units
— Static Units. . . Shooting Radar — Construction Duty
— Surveillance
— High Speed Pursuit
---

"They are installed and look awesome – and boy do they disperse the heat as advertised.  VERY PLEASED.  Thanks again for all the help."
— Chief Bill Sala – Luling, Tex. P.D.
---
---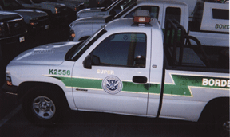 Size Large RunCool Hood Louvers on U.S. Border Patrol pickup. This is an early installation (Standard Flow). We developed the Hi-Flow version for them — 50% more louvers per panel for 50% more flow — needed when it is 150° in the desert! Note roll bar and extended stand for scanning the desert.
---

Interesting Story —
A man recently called from New Mexico and asked about our Hood Louvers. His F250 was overheating, towing in hot weather. He said, "I saw a U.S. Border Patrol vehicle with hood louvers and asked the Border Patrol Agent, "Where did you get those hood louvers?" He said, "Call RunCool Hood Louvers". And, I did! And, I'm glad I did!
Increase vehicle reliability and performance and improve the service life of underhood components with RunCool patented Hood Louvers. Various types of U.S. Border Patrol vehicles use these in the desert, where the temperatures can reach 150°! They want their Agents to be able to run the A/C (especially with K-9 vehicles) when temperatures reach those high levels.
---
Four Directions Search, Rescue and Recovery in Colorado says,

"It is unbelievable how well they work. I would never believe the difference they could make." In fact, testing by the Pelion, S.C. Police Department showed our hood louvers lowered under-hood temperatures by 47°.
The best way to cool hot engines!
Desert tested and used by the U.S. Border Patrol
"PHENOMENAL…a 47° underhood temperature drop!!!"
"26 degree drop on the engine's temperature gauge."
"They do the job…they cool it right down."
"The engine is much cooler. Thanks for a product that REALLY work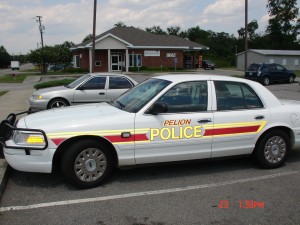 "PHENOMENAL…47° drop in underhood temp!!!" – Pelion, S.C. Police Department Testing
Close up of the Pelion, S.C.P.D. hood louvers. These are Size Large, with 12 louvered openings per panel. Since then, we have introduced the Hi-Flow version, with 19 louvered openings per same-size panel; 50% more louvers and more flow at only 20% more in price.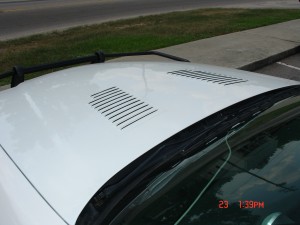 The U.S. Border Patrol and Police Department and Sheriffs' Offices across the country , use our Size Large, Hi-Flow™ Hood Louvers on Crown Vics, Tahoes, Chargers, F-150s, etc., powder-coated white or black to match their vehicles (with matching-color pop rivets included). Call for the special Law Enforcement Discount Price. Usually in stock, and we'll ship them right out, then invoice you. They are easy to install, they work, and we are experienced with Law Enforcement agencies!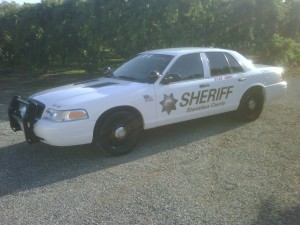 Installation:
Easy Instructions included.
Over 95% of civilian customers install them themselves in their home garage.
Most agencies install in their own car shop.
Some agencies have their local car shop or tire shop install them.
Some officers install them, themselves, at home!
CALL US FOR SPECIAL LAW ENFORCEMENT PRICING!  804-355-1758