Below are

Size Medium

Hood Louvers and

Side Louvers



Shown Below are

Size Large

Hood Louvers
---
"Ford Mustang Hood Louvers — They absolutely make a difference — you can actually see the heat billowing out!"

–Van C., Fla, Supercharged Shelby GT 500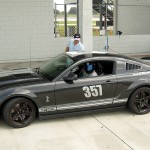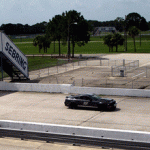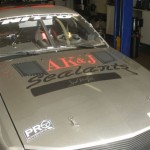 Mustang Hood Louvers (Size Large, Hi-Flow) – Roush Mustang 427 race car
Below are

Size XL

Hood Louvers
"The Man in Black", running cool in the desert!  Size XL with Side Louvers.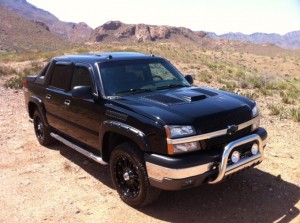 Look at all that Heat Escape™ hood ventilation! Size XL on the Chevy pick-up.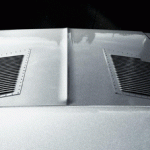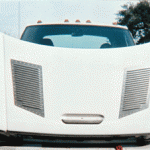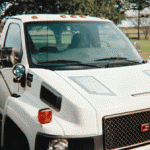 "Although designed to mount on TOP of the hood, the Size XL can also be used as side louvers (for a real California look) on hot rods!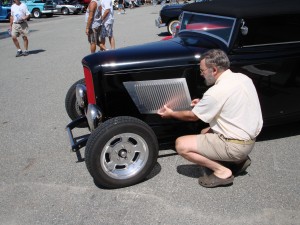 ---
"My GMC Top Kick (19,500 lbs. GVW 6.6 Turbo Diesel) runs 210° when working. The engine area is so full of S!*T , no wonder it stays hot! The heated air has no place to escape on mine or Dodge or Ford or Chevy trucks. Air flowing under the truck does not let the heat escape – only build up. Vehicles idling build up so much heat in the engine compartment, and you've got to get it out or they will sit there and bake themselves to death. Your hood louvers (Size XL, Hi-Flow) draw much air out when running. The air is so hot you can't hold your hand over the vent. Engine temp dropped to 190 deg, and under the hood seems much cooler. Now the air through the radiator, A/C, and intercooler can finally escape through your hood vents and not keep building heat in the intake system, so I'm building more power, which is obvious – especially when I pull an 8,000 lb. load."
                                 –"Cowboy" Stan G., Austin, Texas
---
 "The hood louvers are WONDERFUL!!! We had the race car out for the first time since installing them and the louvers worked to perfection. I went all the way to the Pro Finals yesterday and we didn't have to take the hood off once to get the car cool – amazing!"
–Outrageously Vintage Race Team
---
RUNCOOL® HOOD LOUVERS
6767 FOREST HILL AVE. • SUITE 305 • RICHMOND, VA 23225 • (804) 355-1758
Fax (804) 320-3223 • EMAIL: COOL@HOODLOUVERS.COMSATISFACTION GUARANTEED OR RETURN IN 30 DAYS FOR A FULL REFUND.
RunCool is a manufacturer of hood louvers, hood vents, and accessories to cool your engine.