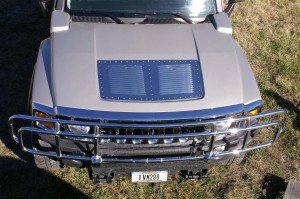 Hummer H3 Hood Louvers – They cool down  the engine. . . and look great, too! Hot air rises — let it out.  Police report underhood temp drop of 47 degrees!  More efficient engine cooling — and cooler  A/C!  Used for years by the U.S. Border Patrol and Law Enforcement agencies across the country — so you know  they work!
Choose from Powder-Coated Black or White or Natural Aluminum.  Come with pop rivets, drill bit and full home-install instructions.
"These were great quality and finish and a breeze to install.  They remove a huge amount of under-hood heat.  Parking it after a hard run you can see and feel the heat pouring out of the louvers!  The H3 has a perfect area on both sides of the hood with no supports just smaller than the louvers.  Thanks for a great product!"
Brett H. – Kansas – Hummer H-3
(Size L Hood Louvers — mounted outboard.)
"It looks and fits GREAT!  They dropped the engine temperature on the gauge 15 – 20 degrees.  Their quality is great.  Excellent work!  This is what GM should have done on the H3 in the first place!  The instructions are real clear and straightforward.  I'm so pleased I am going to buy another set of your hood louvers for my Jeep!"
Rick S. – Montana – Hummer H3
(Size Wideflow™ — in center.)
"Received my hood louverFriday and installed it today.  Love it!  I've hated that fake (factory) plastic hood panel from day one, but had limited options.  Took a shot with you guys and couldn't be happier.  Thanks for a product that satisfies form and function."
— James L., Va. Beach, Va.                        "WideFlow"™ model on H3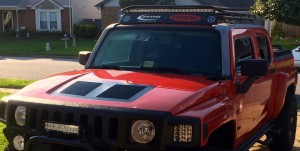 THEY REALLY COOL – AND LOOK GREAT, TOO!
™
"This louver has gotten more attention than just about any other mod I have made!  I have a lot of Hummer guys already asking for your info as well as Jeep guys and other truck guys on my team.  I drove from San Antonio to Corpus today and the difference is immediate and fantastic!  I not only saw a lower engine temp on the drive but an amazing improvement at the beach!  We played in the sand for hours today and the truck never passed the 1/2 point!  Your product exceeded everything you said and more.  Installation was as straight forward as could be.  I followed the instructions and in about an hour the job was completed."
David C. – Project Pittbull