The Best  Jeep Hood Louvers/Hood Vents Money Can Buy!!!™
Dollar-for dollar, the BEST improvement you can make to your Jeep!™
Professional-grade formed Aluminum Panels, in your choice of Powder-Coated Semi-Gloss Black or Gloss White – or Natural Aluminum.
Sturdily Mount with Stainless Steel Pop Rivets, included along with correct-size Drill Bit and Instructions ("Even the Instructions were great!") for installation at home!
Desert tested and used by the U.S. Border Patrol, the DHS, and Police and Sheriffs across the U.S., so you know they must be good!
The best way to cool hot engines!
A cooler engine means a cooler interior! Also increases power, durability, efficiency, reliability, A/C efficiency and battery life.
They work because hot air rises!
Designed with the help of NASA Wind Tunnel Engineer to maximize hot air flow out of your engine compartment.
Prices start at $89/set; 34 models to select. Satisfaction guaranteed or return in 30 days for a full refund!
Another way to "Run Cool" – – but not recommended for speeds over 30 mph!  (Photo at Coronado, Calif., Sep. 2011)

The Testimonials of our Customers Say It Better Than We Ever Could!
"My Jeep has 300,000 miles on it (original engine), and has BIG tires, so it overheats – especially on my 150-mile road trips. Three years ago I put a set of your hood louvers on it, and they made a HUGE difference! Now I want to order a set for my wife's Subaru!– Eric, Minn.
---
"I painted them to match my jeep and they look great and can already notice that the under hood heat exits much better and quicker than before."                       — Lynn M. Lebanon, Tenn.
"In every Jeep I've gotten in, your feet get hot. These solved that problem – and cooled down the engine!"  — Brian H., Jacksonville, Tex.
---
"I've owned Jeep Wranglers before, and I am now looking around at used ones. On nearly all of them, you can tell that much of the hood paint's clear coat has popped right off because they run so hot!" — Toby K., Dela.
---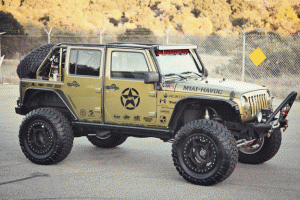 JK-ADVENTURE'S OFFICIAL BUILD:  "HAVOC" (Size Long Hood Louvers)
"Considering the added heat from the supercharger, we decided to install hood louvers.  We called the guys over at Run Cool Hood Louvers.  We took their advice on which hood louvers would work best for our JK in both function and style. We are extremely happy with their customer service and product!  Not only did these hood louvers give the function of venting heat that we needed, but they also added that special custom look to HAVOC". — Troy T.
 They REALLY Cool — and Look GREAT, Too!!!™
"26 degree drop on the engine's temperature gauge! Now I can run the A/C without overheating! I stood back after I installed them and said, 'They really look sharp!' I hit on something good. They impressed me from the minute I opened the box!"
–Ken G., Idalia, Col., Jeep Cherokee
---
"It's amazing the difference they make! Even the passenger compartment is cooler! Before your hood louvers, some sensitive electronic components under the hood got so hot my gas mileage dropped 5-7 mpg (but the engine ran fine — so I didn't discover this at first). I've run your hood louvers for 3 years, and that hasn't happened since! Now, I'm ordering another set for my truck, and I'll soon order a set for my other Jeep." — Robert C., Missouri (Jeep Cherokee)
"Below are pictures of us wheelin' in Moab, Utah at Easter Jeep Safari. . . highlighting our new louvers!  They greatly reduce the heat build-up under the hood.  They look sharp!  Thanks!"

— Loren J.,  Moab, Utah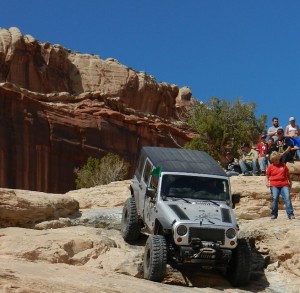 ---
"They have worked very well.  Don't have specific numbers but one thing is for sure, when I'm rock crawling and the engine fan turns on, the heat comes flowing out the louvers.  Exactly what I was looking for. They look cool too!"
– Mike
---
"I've had some heating issues:  I had installed a new alum. radiator with elec. fans — still not solved.  I have to say that I should have tried the louvers first.  They work great – not sorry a bit for spending the money — had to save for them but worth it!!  Bottom line, happy with all three upgrades but could not do without the louvers and I love the way they look!  Thank you for your help and great service."  — Don S. – Calif.
---
2000 Jeep Cherokee XJ
"I did a V-8 conversion on my Jeep, but it ran too hot. As soon as I put your hood louvers on, it immediately solved the problem."
–Paul L., Minn.
---
"Your hood louvers are absolutely excellent! Install was straight forward, instructions were good, the louvers look great, and the temp of the Jeep XJ has dropped 20 degrees F. And that's on the temp gauge. The under hood temp dropped even more. Very pleased with the service, and responsiveness of your team, and your product."
–D.H. – Caytonsville, Md.
---
"As a Process Control Engineer, I fully appreciate convection and how lowering the static pressure downstream of the radiator will decrease the engine bay temperature.  I also appreciate the KISS principle in both design and use.  Your product seems tailor made for a big motor in a little engine bay."                                                                                   — Bruce C., '67 Jeepster Commando with Chevy 350
"The Size Large Louvers look good on my Wrangler — but the best thing is they work well, too!"
–Justin F., Mass.
---
"We like these vents because they are easy to install and they come powder-coated with clean-looking stainless steel pop-rivet fasteners."
–Four Wheeler Magazine
---
"I recommend your hood louvers to my customers because they look good, and they work!
–4×4 Dealer, Calif.
---
"I put a set of your Side Louvers on my Jeep TJ and they worked so well I'm now ordering a set of your Hood Louvers. This is my second order in just two weeks!"
–David P., Charlottesville, Va.
"Great results — temp gauge (engine) went down 23 degrees. Now on a 100 degree day with air conditioning running, I don't get worried anymore about overheating."
— Ken G., Colo. (Jeep Cherokee)
---
"You have a good product! Your hood louvers let out plenty of heat and solved my fuel percolation problem, too. This is the second Jeep I've put these on."
–Robert H., Tex. (Jeep CJ-7 with AMC 401 V8)
---
"It is UNBELIEVABLE how well they work. I would never believe the difference they could make. Your hood louvers are exceptional! The quality of your products far exceeded my expectations. The instructions are faultless, and installing them was easy."
–K.W., Colo. (Search, Rescue and Recovery)
---
"Your instructions for installation were awesome, nice job. I painted the vents a matching House of Color Orange Pearl with a base underneath. Used 4 coats of clear coat to make them match the hood. Jeep is a '97, stretched frame, 41″ IROKS, Dana 60 axles, Atlas Transfer, Chevy 5.7 V8…I could feel the heat from the vent coming out, and the hood was not hot to the touch anymore."
–T.W., Ga.
---
"The 304
[in the Jeep] puts out a lot of heat and this is a great looking way to get rid of that heat."
–
www.certifiablejeep.com
---
"I installed the louvers on Tuesday, drove over to Moab, picked up some new tires on Thursday, followed a group of Goodyear tire testing vehicles through Pritchett Canyon on Friday, and returned home on Saturday. The louvers worked! Thank you so much."
–Jim B., Ariz., Jeep Liberty
---
"I have some plastic hood louvers now — what a pain! Once or twice each year I have to take them off and repaint them — the paint is always flaking off, and that's after using special plastic paint! I'm ordering your powder-coated aluminum ones because I'm tired of messing around!"
–Jeep Owner
---
"I drive a Cherokee that gets warm while wheeling, but it passed the test this Memorial weekend while wheeling with the RunCool louvers installed. Got a lot of comments on them. They look good and function good! I would be proud to put a sticker on my truck to tell the world about this product!"
–Dave T., Texas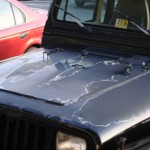 Yes, Jeeps run hot! Don't let this happen to the paint on your hood!
Let the heat out with RunCool Hood Louvers!
RUNCOOL® HOOD LOUVERS

6767 FOREST HILL AVE. • SUITE 305 • RICHMOND, VA 23225 • (804) 355-1758
Fax (804) 320-3223 • EMAIL: COOL@HOODLOUVERS.COM
SATISFACTION GUARANTEED OR RETURN IN 30 DAYS FOR A FULL REFUND.

RunCool is a manufacturer of hood louvers, hood vents, and accessories to cool your engine.